As I have written before, I will be attending the Chick-fil-A Leadercast on May 7, 2010. This is a one-day leadership event that will take place in Atlanta, Georgia and will be broadcast to 500 host locations throughout the country via satellite or internet downlink. They are expecting nearly 70,000 attendees, between the live site in Atlanta and the rest of North America.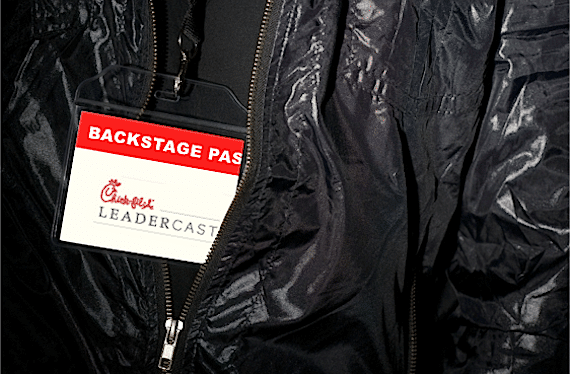 Since the time I first blogged about it, GIANT Impact, the company producing the event with Chick-fil-A, has asked me to host "Backstage Leadercast." I will be in the "Green Room," interviewing the speakers as they come and go. This will be broadcast on the Web before the event, during the breaks, and after the event.
I will be talking with:
You can read some of the testimonials of previous attendees here.
The Chick-fil-A Leadercast is still looking for a few more host churches to participate in this event. If you are a pastor, church staff member, or lay leader, this is a great way for your church to reach the business leaders in your community. Specifically, it will enable you to:
Invite people into your church that might otherwise never darken the door
Build relationships that will create opportunities for significant, spiritual conversations after the event
Become the church known for speaking to the needs of the local business community
Offer relevant leadership training for business leaders in your city
Generate alternative revenue
You can find out more about becoming a host site by clicking here. Just for requesting more information, they will give you a free John C. Maxwell audio lesson and fill-in-the-blank notes, entitled, "Feel the Fear and Do it Anyway."
If you want to attend the in-person event in Atlanta, you can get $10 off the registration price by clicking here and entering the priority code HYATT.
I look forward to seeing you there!
Questions: Are you planning to attend the Chick-fil-A Leadercast? Is your church hosting it?