Holy smoke! I thought I had big goals. Then I read a new article on the Wired Web site about a long-distance runner named Dean Karnazes. It's called "The Perfect Human." It's definitely worth reading.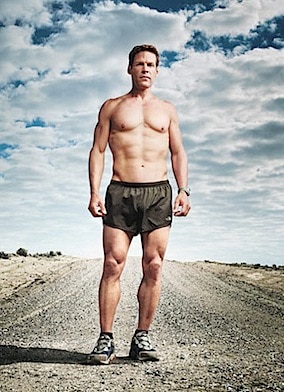 Here are some of the highlights:
He ran a marathon a day in a different state for 50 consecutive days. He ran in all 50 states.
He once ran 350 miles in three days—with no sleep.
He's run the Badwater Ultramarathon seven times. It starts in Death Valley, 250 feet below sea level and concludes, 135 miles later, halfway up Mt. Whitney, at 8,360 feet. He won the race in 2004 on his fifth attempt.
He runs 100 to 170 miles a week.
He couldn't find time to run 4–6 hours a day, so he began sleeping less. He currently only sleeps four hours a night.
His resting heart rate is 39 beats per minute!
My favorite quote from him is this one:
Life is not a journey to the grave with the intention to arrive safely in a pretty and well-preserved body, but rather to skid in broadside, thoroughly used up, totally worn out, and loudly proclaiming: Wow!! What a ride!
Amazingly, Dean just turned 44. Maybe I need to revisit my goals and do a little stretching! You can also read more about him on his official Web site.