At Michael Hyatt & Co. we see personal and professional growth as a divine calling and glorify God by stewarding and improving the people, skills, and opportunities entrusted to us. Winning at work and succeeding at life is an expression of that stewardship, along with cultivating our businesses, closest relationships, and ourselves to achieve their greatest potential.
Our Mission
We are a performance coaching company. We help high-achieving leaders and their teams get the vision, alignment, and execution they need to win at work and succeed at life—what we call The Double Win.
The value we offer includes:
Live Events & 1-Day Intensives

Physical Productivity Tools

Four Bestselling Books

A World-Class Podcast

Value-Driven Newsletters

Informative Ebooks and Videos

Executive Coaching

Corporate Training
Our team of agile full-time employees and contractors are always innovating to better serve our customers and lead our industry to new levels of excellence. In a highly collaborative environment, we seek to encourage and strengthen each other while continually delivering greater value to our audience.
The Michael Hyatt & Company team prioritizes both intentional margin for ourselves and outstanding experiences for our customers, meaning we practice what we preach as we strive to not only win at work, but enable our employees to succeed in their lives as a whole.
Our team members love what they do—and have a blast doing it. The work is deeply rewarding and plays to each person's unique strengths and talents.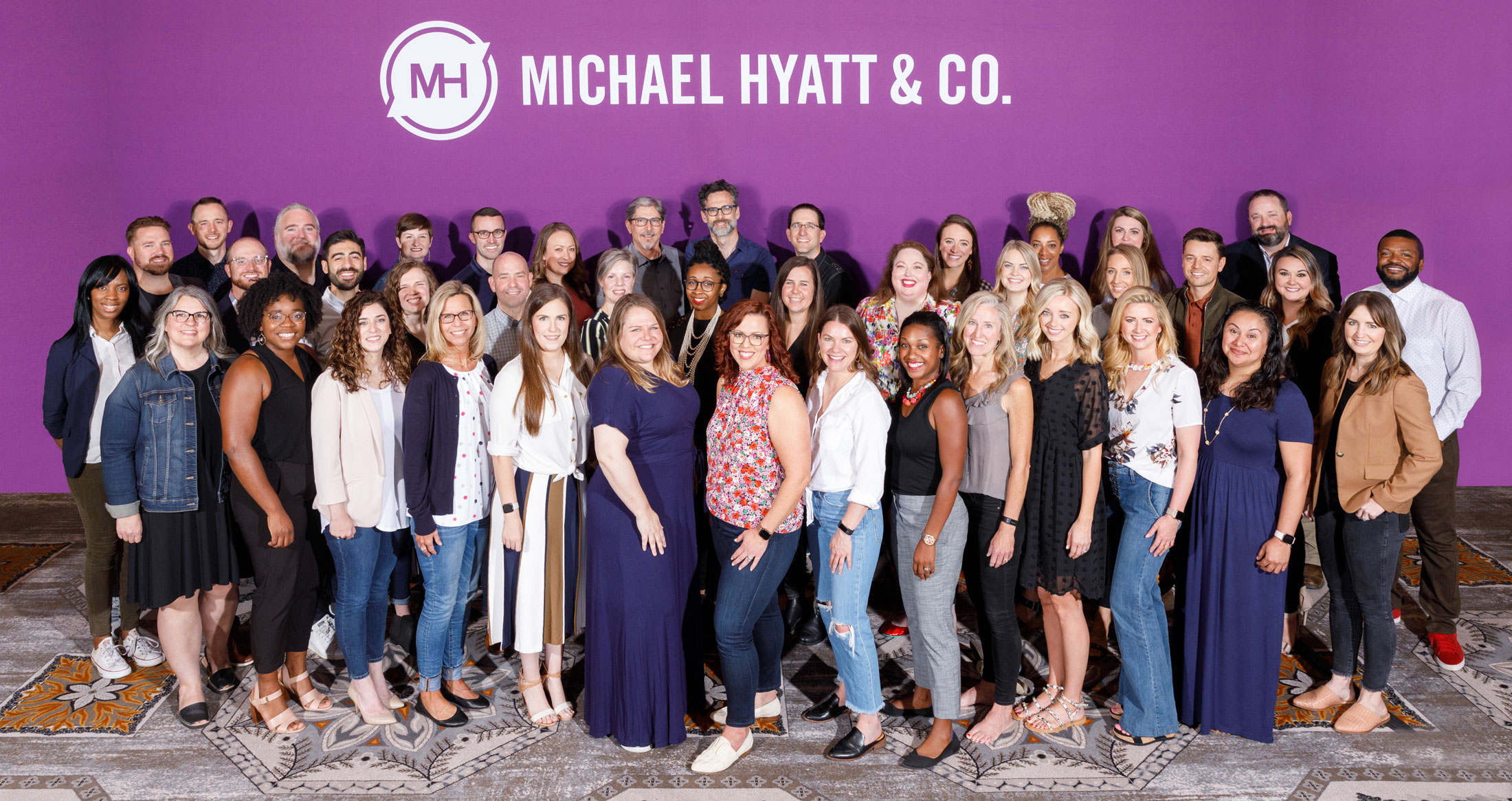 Our Story
M ichael Hyatt & Co. was founded by Michael Hyatt and Megan Hyatt Miller in 2011. Since then, we've coached more than 600 business owners and impacted more than 1 million people with the Full Focus Planner. Best of all, we walk the talk. We've made the Inc. 5000 list of fastest-growing private companies in America several years in a row and have been named one of Inc.'s Best Places to Work in 2020 and 2021. Michael transitioned to Founder and Chairman in 2021, and Megan now leads the company as CEO.
Our Core Values
Hover over each to learn more
Why Join Our Team?
Here Are Five Reasons to Consider
Work You Love

By working with us, you can dig deep into your desired specialty and grow personally and professionally.

You'll be inspired to pursue out-of-the-box thinking and work with others to achieve big, wildly important goals. You'll also be able to sharpen your skills constructively through feedback and celebrate individual and collective wins. This is where what you're passionate about and what you do best combine into the dream job you've been looking for.

Fantastic Benefits

You'll have quality time for relationships and leisure due to generous vacation and holiday time, and working on the weekends is considered a crime (or, politely discouraged).

All that without compromising pay or benefits — you'll have full health benefits and will be compensated competitively for your unique skill set. Since we prioritize the needs of our employees first, you will be inspired to recharge intentionally, knowing that your interests are protected and your family life and health are paramount. Click here to learn more about our benefits for our full time, salaried employees

Smart, Fun Teammates

In this company, your team members are cool people that you like, respect, and would want to hang out with in real life.

You won't be micro-managed — rather, you'll be guided by clear directives and competent, engaging managers who seek your best interests as well as those of the team. You'll be able to communicate regularly with your teammates to collaborate on projects while enjoying plenty of time to focus on your responsibilities.

A Perfect Hybrid: In Person & Remote Work

At Michael Hyatt & Company, we've created an intentional culture that promotes productivity, collaboration, and fun at work!

We do this through our unique hybrid model of remote and in-person work.

In our experience, people are the happiest and most productive when they have meaningful time to do deep, uninterrupted work at home (or wherever they can focus best) and when they have the sense of connection that comes from in-person collaboration.

Our team members typically work in the office 2-4 times a week, depending on the nature of their role, their leader's needs, and their meeting schedule. Other days, they have the freedom to work remotely. With this vision in mind, we provide a beautiful and inspiring, private collaborative workspace for our team, expertly designed to feel more like a chic boutique hotel than an office, but complete with the tech-forward amenities you'd expect to find from a forward-thinking company like ours.

Check out our beautiful, collaborative space for yourself here.

A Strategic Focus

If you are positive, confident, and willing to serve others, you're our kind of people. We handle the hiring process with care.

We only recruit individuals who are deeply talented, extremely competent, and possess impeccable character. Our team is focused, disciplined, and strategic in creating only those products that serve our mission. As a member of our team, you will be highly valued, respected, and able to hone in on important, thought-out objectives.
Current Openings
See Our List of Available Positions Below